Want to get on top of the latest trends? Check out these easy items you can add to your wardrobe for an instant update. 2015 fashion trends come in all shapes and sizes, let us know what you're wearing over on Twitter and Facebook.
Sequins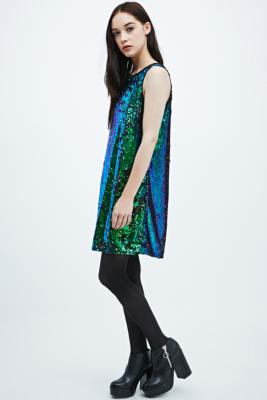 Got for glitter when it comes to your partywear in 2015. We love this dress from Urban Outfitters, you'll be turning heads and looking like a mermaid while you do it.
If all-over sequins aren't for you, try adding come glitz with a sequin clutch or sparkly high heels. Check out our post on how to wear sequins.
Floral
This is a trend that's here to stay and we're happy about that. Whether it's the watercolor look or something with a bit more texture, you'll be seeing lots of flower power in spring and summer of this year.
Polka dot
It doesn't matter if you're style is retro or grunge, preppy or alternative, there's some polka dots out there for you. I love mixing these prints then giving it all a bit of a punk edge with a simple leather jacket.
Ballerina beauty
Big tulle skirts, pale pinks and nudes along with simple shoes and the ever-popular ballerina bun. There are so many ways this look can work for you.
Gladiators are back
The gladiator sandals are back. These comfy summer shoes go with almost anything and their heeled counterparts work perfectly with a nice dress, bare legs and a little bit of a tan.
Khaki
Whether your preference is leather khaki shorts like these from Tibi or whether you prefer the simple explorer look, there's some khaki out there for you in 2015.
Tuxedos
The tuxedo is going to be big in 2015 and not just for men. Look for sleek, fitted jackets like this one or go for longline blazers with matching shorts and a sheer shirt. There are so many ways to wear this look, all of which we'll be covering in the coming months.